We Have Met The Enemy and He Is Us - Pogo
---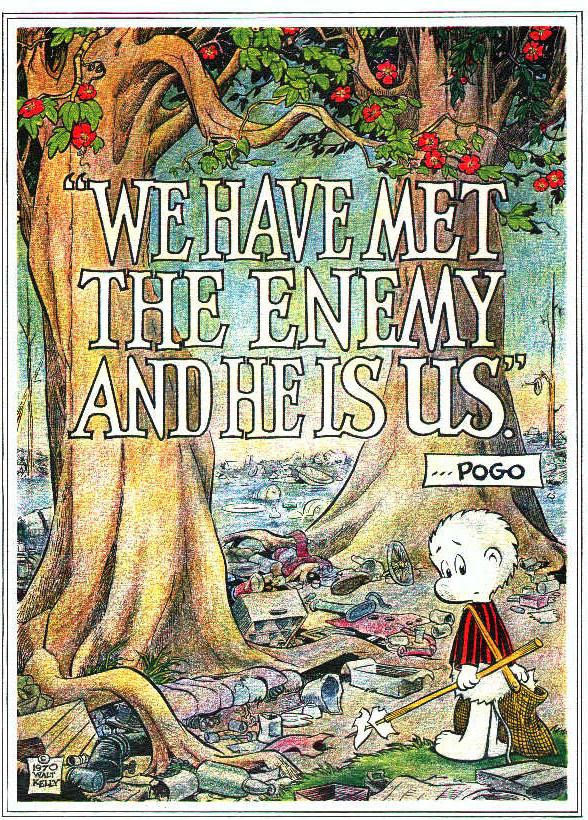 Was looking at this picture today in my office and my thoughts immediately flowed to how all of us loyal, to-the-death, die-hard Saints fanatics have reacted to the events that was the Thursday Matchup with our Arch-Rival and former, estranged B*tch, the Atlanta Falcons...
This loss has encapsulated the 2012 season like no other thus far...
The game started with a safety unable to come up with an interception and the defense unable to stop a tired-@$$ running game as we were physically whooped at the line of scrimmage; and early on we were in a deep hole which we proudly, heroically fought out of and showed we were every bit as good as the team with best record in the league this year - I refrain from calling them the class of the league because of certain logistic events...
And then, our quarterback, who's this close to adding a resume of victory as impressive as Manning, Brady is denied his record, a score and an opportunity to make other fans feel what we felt for so many years when Montana came calling; first by agents of the league - I can't call these guys referees after calling a pass interference penalty that had no effect on the outcome of the play and failing to call numerous, obvious unnecessary roughness penalties that added to a Saints fans group collective paranoia that "They're All Out To Get Us" that the BountyGate BeatDown has caused...
But what I think has all of us most frustrated is the missed opportunity to stick in "the rest of the world's face" and say "We Are the New Orleans Saints, Take Notice, Fear and Respect Us"
Instead we are left at the mercy of the hypocrisy of analysis by a$$clowns such as Sanders, Irving who have jobs because they are controversial and generate feedback for League and Network Executives who use the reverberation to milk as much coin as possible from detached, unaccountable advertisers who can't see through their closeted, high-school, latent diva wanting for drama...
Instead, most of us average joes are left as frustrated as watching a care wreck with loved ones from afar - knowing , despite our varying differences of opinion on personnel and strategy and truly knowing we could probably manage this team better than the individuals who are separated from us because of providence or familial connection and probably would find themselves in politics if not for their opportunity to fumble drafts and find class free agents intercepted by the competition...
So we will watch as two teams come to dance at our homecoming while we sit on the side...
As our quarterback, who alienated himself briefly through his vampire agent, won our hearts and then left us disappointed as he allowed himself to be overwhelmed by trying to earn those lofty dollar figures - will not be allowed to add another Lombardi to the one who so graciously gave us before...
As his supporting cast, coming from a small market, will be overlooked, yet again, because their only opportunity to earn postseason honors will not be there...
As the defense, that finally seem to be finding its legs, now must find the courage to finish the season strong...
As the threat of Jerry Jones, who represents what is wrong with professional sports today will try to complete what Roger Goodell started by stealing a part of our bona fide...
We've earned the right to be critical of our team after years of these missed Casey-at-the-Bat opportunities when we just look for something, even for a brief moment, to be perfect in our imperfect lives...
But regardless of our frustrations with a lack of pass rush, failure of outer offensive line effectiveness, inability of pass coverage, or failure to stay committed to a balance attack, or league interference - we will continue to support our Saints because we pay it forward for the day they will deliver...

Views
6843
Comments
0
Trackbacks
0
Comments
Trackbacks