Ricky Williams still going strong
---
Can you imagine if Ricky Williams were still a Saint? He might play a few more years.
Quote:
Originally Posted by
SmashMouth
DAVIE, Fla. -- Upon walking into Ricky Williams' house, nothing indicates an NFL player lives there.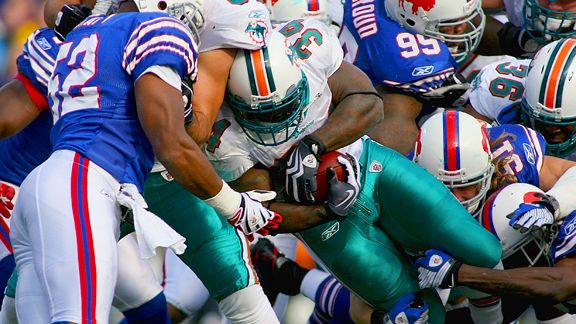 Quite the contrary. I'm not sure what the opposite of football is, but the items in his home might represent it.
Instead of seeing his Heisman Trophy on display, guests are greeted at the door by a statue of Ganesha, a Hindu deity known as the Remover of Obstacles, which comes in handy when Williams' gregarious 4-year-old daughter Asha barricades herself in front of the door to prevent visitors from leaving.
Williams' home features a conservatively classy decor accented with reminders that the owner, among the baddest ball carriers of the past decade, takes an "unfootball" approach to life and his remarkable career.
On the bookshelves in his meditation room are such titles as "The Complete Book of Spells: Ancient and Modern Spells for the Solitary Witch," "Moonchild" and "The Inner Planets: Building Blocks for a Personal Reality" mixed in with textbooks on holistic medicine, esoteric psychology, theology, the occult and philosophy. A statuette of Guan Yin, the Buddhist goddess of mercy, is perched on one shelf. An image of Jesus is on another.
Williams does yoga, has an acupuncture chart on his wall, prefers ambient music, burns incense every night and is a vegetarian who consumes as little as 1,000 calories a day during training camp. Football players are supposed to gnaw on animal bones, hit the clubs and crank music that tests the limits of an Escalade's subwoofer.
That's why Williams typically keeps his unconventional beliefs to himself. He knows they carry stigmas and suspects his teammates won't be overly tolerant.
"Pretty much everything I do," Williams said, "they think is weird. A lot of what I do, I don't do it in front of them because I don't want to weird them out."
Williams believes his metaphysical lifestyle and unorthodox training methods have helped him defy expectations in what would be a common running back's dotage. He's 33 years old and has remained relentless for the Miami Dolphins.
read more
Views
2516
Comments
0
Trackbacks
0
Comments
Trackbacks