A 1 percent tax on billionaires around the world. A tax on all currency trading in the U.S. dollar, the euro, the Japanese yen and the British pound sterling. Another "tiny" tax on all financial transactions, including stock and bond trading, and trading in financial derivatives. New taxes on carbon emissions and on airline tickets. A royalty on all undersea mineral resources extracted more than 100 miles offshore of any nation's territory.
The United Nations is at it again: finding new and "innovative" ways to create global taxes that would transfer hundreds of billions, and even trillions, of dollars from the rich nations of the world — especially the U.S. — to poorer ones, in line with U.N.-directed economic, social and environmental development.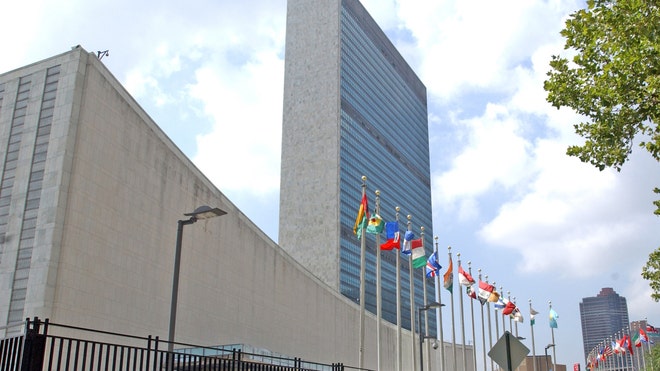 These latest global tax proposals have received various forms of endorsement at U.N. meetings over the spring and summer, and will be entered into the record during the 67th U.N. General Assembly session, which began this week. The agenda for the entire session, lasting through December, is scheduled to be finalized on Friday.
How to convince developed countries wracked by economic recession and spiraling levels of government debt – especially the U.S. — is another issue, which the world organization may well end up trying to finesse.
As the U.N. itself notes, in a major report on the taxation topic titled, "In Search of New Development Finance" -- the main topic at a high-level international meeting of the U.N.'s Economic and Social Council (ECOSOC) this summer -- "These proposals are subject to political controversy. For instance, many countries are not willing to support international forms of taxation, as these are said to undermine national sovereignty."
The world organization, and its constellation of funds, agencies and programs, has been pushing "innovative financing" for nearly a decade.
-
The U.N. clearly hopes it can find a way to move ahead. " Politically, tapping revenue from global resources and raising taxes internationally to address global problems are much more difficult than taxing for purely domestic purposes," admits an ECOSOC document produced last April. But, it summarizes, "the time has come to confront the challenge."
Shortly thereafter, the tax proposals — known in U.N.-speak as "innovative methods of financing"-- got a limited endorsement from a group of government ministers and other heads of national delegations who attended a major ECOSOC meeting in New York City in July.
The global taxation idea was echoed this week by Jeffrey Sachs, head of Columbia University's Earth Institute and also a U.N. Assistant Secretary General. Sachs was recently named by U.N. Secretary General Ban Ki-moon to head a new intellectual lobbying group of experts called the Sustainable Development Solutions Network. It "will work closely with United Nations agencies, multilateral financing institutions and other international organizations," according to the Earth Institute website.
On Monday, the controversial economist, a vociferous supporter of the Occupy Wall Street movement, called on President Obama to implement a carbon tax that in turn could be used to finance bonds, paying for investments to combat "climate change" -- one of the major focuses of the new solutions network.
Sachs was quoted by Bloomberg News as declaring that, "I'm happy to have the future pay for a lot of this. It doesn't have to be current financed."
In the midst of a heated U.S. national election campaign, any official endorsement of those views is unlikely.
Read more:
EXCLUSIVE: As the UN opens its General Assembly session, it is already thinking up new global taxes | Fox News