Why The New Orleans Saints Will Win The Super Bowl
Correspondent Written on
December 12, 2009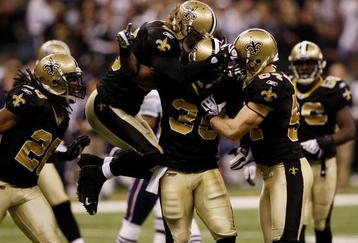 An ascendant Saints team is the recipient of a good spin of Fortuna's wheel. As Walker Percy wrote in the forward to "A Confederacy of Dunces" in admiration of John Kennedy Toole's manuscript: "Surely it was not possible that it was so good."
And so it is with the Saints. NFL fans around the nation perhaps haven't fully gotten their head around how good this team is. I mean, c'mon…the Saints?
This year's Mardi Gras is supposed to start February 16. But a Saints win in Super Bowl XLIV on Feb. 7 in the organization's first-ever trip to the dance will usher in Mardi Gras-like celebrations.
It's of little consequence whether the 12-0 Saints run the table: A regular-season loss might even be preferable in the Saints' quest to hoist the Vince Lombardi Trophy. See "New England Patriots 2007."
The Pats 2007 run takes some shine off going undefeated in the regular season: It didn't work so well for the Pats. Besides, their impressive run was so recent that it has muted this year's to-date 12-0 run by both the Saints and Indianapolis Colts. The Pats were staring NFL history in the face as the first team to go undefeated in the regular season since the 1972 Miami Dolphins (14-0). Now there's less riding on going undefeated in the regular season; there'll always be pressure to be a perfect 19-0.
When a team is as good as the Saints it's customary to devise all the reasons why they won't win it all, but that can be a sucker's game. Unlike the 2007 Pats, this Saints team doesn't have a chip on its shoulder. This is an organization that didn't whine when its home games were set adrift by Hurricane Katrina in 2005.
To be sure, the competition is stiff to both get to and win the Super Bowl. Indeed, the Arizona Cardinals may be the team that is the most underappreciated and the biggest threat to derail the Saints. Flaws can be ascribed to every team. But this year Drew Brees is in the conversation as the one quarterback to rally behind in a big game. I wouldn't bet against him.
Why The New Orleans Saints Will Win The Super Bowl | Bleacher Report