Jerry Jones is not backing down in his duel with NFL Commissioner Roger Goodell. Long after a Super Bowl winner is crowned, these two NFL heavyweights may still be going at it.
And the battle could get messy.
Jones, the fiery, outspoken owner of the Dallas Cowboys, has threatened to sue the NFL and several team owners if the league agrees to a new contract with Goodell, the buttoned-down, highly-criticized commish whose contract will expire in 2018.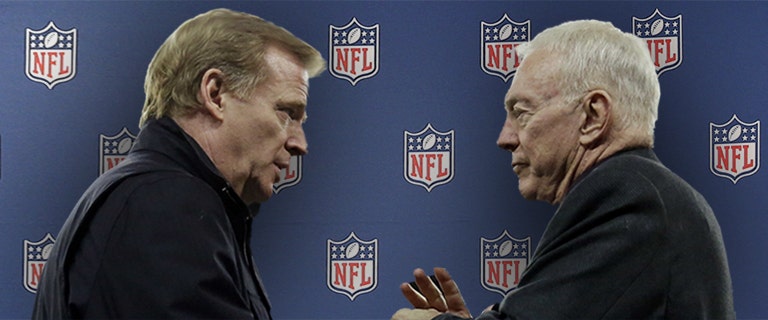 Letter points finger at Cowboys owner for trying to sabotage contract negotiations with Commissioner Roger Goodell.
The NFL said the issue is settled. The owners already voted in May -- unanimously -- to extend Goodell's contact. Jones, however, said circumstances have changed.
The personalities and management styles of the men couldn't be more different.
Jones, an Arkansas-native, played college football before striking it rich in the oil industry. He's taken an active role in building his team. But his vocal approach and rags-to-riches success story haven't made him popular with his fellow owners.
Goodell was a New Yorker, born to a U.S. Senator, Charles Ellsworth Goodell. The suave and polished Washington & Jefferson graduate started working in the NFL in 1982 and rose to become commissioner by 2006. During the 2013-2014 season, he reportedly earned $44 million.
Jones blames Goodell for the escalation of national anthem protests that have divided Americans and drawn the ire of the fan-in-chief: President Trump. Jones also said "behavior policies" have been an issue since May.
It doesn't help that total viewership of NFL games is down, with Sports Illustrated reporting an eight percent decrease during the season's first six weeks.
read more here