If you sit in the Superdome as high as I do,

THEN YOU'RE IN THE NOSE BLEED SECTION!
Personals: 2 women looking for 1 man for weekly ride to raising canes - ww4m
Posted 01-04-2012 at 10:28 AM by
Halo
---
I found this awesome ad on Craigs List in New Orleans. I'll let it speak for itself...
looking for weekly ride to raising canes - ww4m - 25 (bywater,new orleans)
Quote:
hello,
2 ladies are seeking man, or woman, or transgender, or robot, or alpaca to chauffeur us to raising canes on a weekly or twice weekly basis.
must have vehicle, and love for chicken.
In exchange for your services, we will purchase a 4 piece box combo with fountain drink for you at raising canes. in addition, we will buy you up to 1 extra cane's sauce.
must have flexible schedule, be reliable. courteous, and NO CRAZIES.
please send a picture of yourself and a little bit about yourself.
Link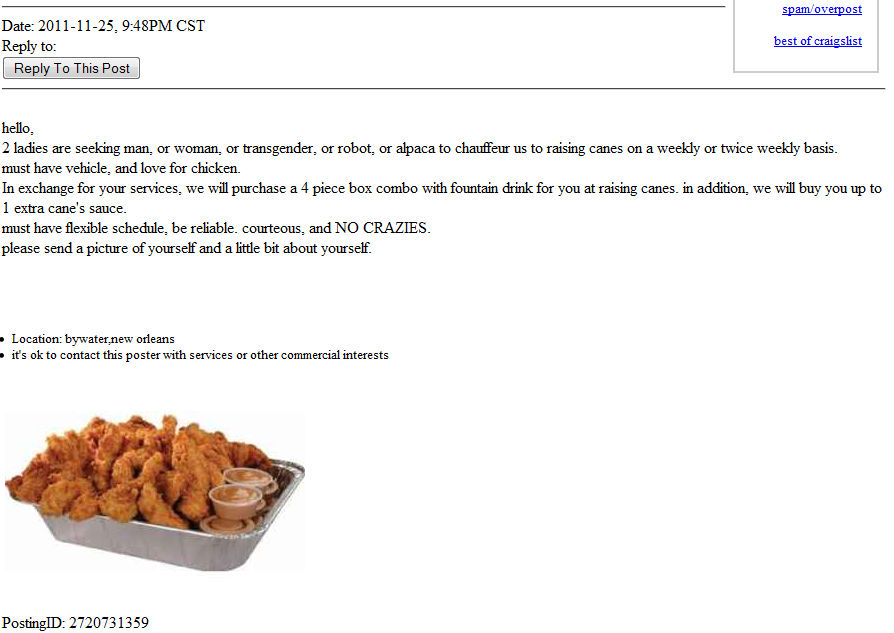 Views
11336
Comments
4
Trackbacks
0
Comments


Trackbacks