Iowa State coach Paul Rhoads blasted Big 12 officiating Thursday night after a Texas fumble at the goal line ended up being ruled down by contact.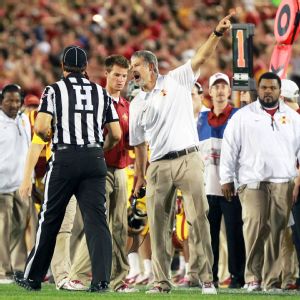 Iowa State coach Paul Rhoads screams at an official after an apparent fumble by Texas at the goal line was negated because the runner was ruled down by contact. Texas scored two plays later and won 31-30.
Rhoads launched into a loud postgame rant about the game's final moments, his voice rising to a yell as he explained his displeasure with the ruling that led to a 31-30 victory for Texas.
"I've got the privilege as the head coach of this football program to face my players, win or lose, and look them in the eye and [tell them] how proud I am of the work they put forth, the effort they gave," Rhoads said. "And to make a play on the 1-yard line, with their backs against the wall -- clear to everybody -- and have it taken away from them … that's hard to express.
"You don't just put an arm around a guy and tell him it's OK when that happens to him. I'm so proud of the effort my kids gave to win this football game tonight."
On first-and-goal from the 3, Texas' Johnathan Gray rushed up the middle and was met by several Iowa State defenders. While Gray continued to push his way closer to the end zone, ISU linebacker Jeremiah George swiped the ball out of Gray's arms and ran down the field.
The play was ruled down by contact after a 1-yard gain. After review, officials determined the ruling on the field "stands as called" because video evidence wasn't indisputable.
Read More