Why the Jets' pass defense isn't elite
New York's pass defense could be carved up by Peyton Manning
By Bill Barnwell
Football Outsiders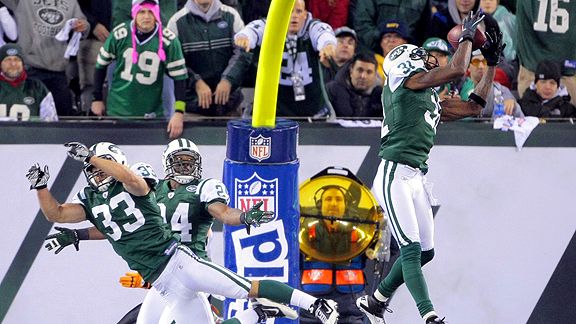 Tony Kurdzuk/The Star-Ledger/US PresswireDespite adding Antonio Cromartie, the Jets' pass defense is worse than it was last year.
With the opening round of the NFL playoffs upon us, it's time for that funny part of the NFL season where players and teams get assigned storylines that just don't fit. Sometimes, it's an anecdotal measure of performance that resembles luck far more than skill. Other times, it's a made-for-TV storyline about a team's past performance that doesn't apply to the current iteration of the franchise. And heck -- sometimes the things you hear about teams are even true.
At Football Outsiders, it's our duty to sift through these storylines and figure out which of them are myths that you should scoff at (http://insider.espn.go.com/nfl/insider/news/story?id=5786985). We've trawled through the discussions surrounding each of the eight teams participating in Wild Card weekend and found four myths, along with four ideas more based in realty.
AFC
Myth: The New York Jets have an elite pass defense.
Last year, the numbers matched perception: The Jets had the best defense, best pass defense and best pass defense against No. 1 receivers according to
DVOA
. Darrelle Revis Profile - New York Jets - ESPN was better than other cornerbacks at a level akin to the performance of a 2,000-yard running back being better than his peers. For the same reason that running backs don't run for 2,000 yards every year, we predicted that the Jets' pass defense would decline. Thanks to a Revis injury and poor play from their other cornerbacks, that's been the case. The Jets still have a good pass defense -- they rank seventh against the pass according to DVOA this year, and they're a respectable tenth against No. 1 receivers -- but they're not anywhere close to where they were last year.
Myth: The Indianapolis Colts' biggest problem is their run defense.
Historically, the undersized Colts have been able to contain passing games with the pass rush ability of Dwight Freeney Profile - Indianapolis Colts - ESPN and Robert Mathis Profile - Indianapolis Colts - ESPN, but they've been pushed around in the running game and struggled to stop stout rushing attacks. This year, the Colts' pass defense has been awful, ranking 26th in DVOA. The run defense, though? It's a reasonable 19th. In fact, they rank eighth on defense in those "power" run situations we mentioned earlier.
Reality: The Kansas City Chiefs can't stop the run.
Slowing down opposing rushing attacks was a big concern for Kansas City, which ranked last against the run per DVOA a season ago. During the first half of this season, they improved dramatically, ranking sixth in the league against opposing rushers. After Week 9, though, they collapsed. The Chiefs have had the worst rushing defense in football over the final eight games of the year, and against the Ravens, that could be a devastating flaw.
Myth: Ray Rice Profile - Baltimore Ravens - ESPN and the Baltimore Ravens are one of the league's best screen teams.
It's tempting to consider Rice's effectiveness as a receiver and pencil the Ravens in as a dominant team when throwing screen passes. In reality, they are good on screens, but nothing to write home about. Consider Success Rate, our stat which measures whether a team is staying "on pace" for converting a first down. The league average Success Rate on screen passes to running backs is 36 percent; the Ravens are at 41 percent, which marks them as slightly above-average. The league averages 6.4 yards per screen pass attempt; the Ravens are at a 6.6-yard average on their running back screens. Not bad, certainly, but there's nothing to suggest that the Ravens are dominating teams with their work on screen passes.
NFC
Myth: The New Orleans Saints need Reggie Bush Profile - New Orleans Saints - ESPN to play well in order to make their offense work.
There's every reason to believe that Bush has a tangible impact on his team. Coaches can make an entirely convincing case about how his presence opens up space for other players on the field and forces the defense into mismatches. The problem, though, is that those mismatches don't add up to any sort of tangible impact. Since the Saints drafted Bush in 2006, they've averaged 26.5 points per game while Bush is in the lineup. Bush has missed 18 games through injury; in those 18 games, they've actually averaged 28.9 points per game, nearly 2.5 points more per game. This year, the Saints scored 188 points in the eight games Bush was healthy enough to play in, and 196 in the eight games he missed.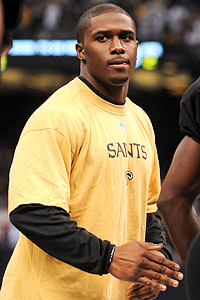 Chuck Cook/US PresswireIs the Saints offense actually more dangerous with Reggie Bush on the field?
Reality: The 12th Man exists in Seattle.
It's a little-known secret of the NFL that false starts tend to have little to do with locale. Since 2006, home teams have committed 49 percent of false starts, suggesting that the crowd really has no effect on forcing the terrified opposition into taking false steps before the snap. That's not the case in Seattle. Since 2006, the Seattle Seahawks have committed just 35 percent of the false starts in their home games -- and that's despite an offensive line that's struggled mightily at times.
Reality: The Green Bay Packers can't run in short yardage.
We have a stat that measures how successful a team is running the ball in "power" situations, which we define to be either carries on third or fourth down with two yards to go or less, or carries on first or second down within two yards of the end zone. In 2010, the average team converted these runs 62 percent of the time, with the Miami Dolphins picking the yards up a league-best 83 percent of the time. The Packers were able to move the chains in these situations just 55 percent of the time, good for 25th in the league. Among playoff teams, only the Seahawks (29th) and Chicago Bears (last) have been worse.
Reality: Michael Vick Profile - Philadelphia Eagles - ESPN brought the running game back to Philly.
Research we've done at Football Outsiders in the past has shown that a mobile quarterback improves the per-play performance of his team's running backs, and when you combine Vick's performance as a runner with LeSean McCoy Profile - Philadelphia Eagles - ESPN's, the Philadelphia Eagles are doing serious work. The team once famed for their refusal to run the ball had the best rushing DVOA in football this year; in fact, it was the third-best rushing DVOA since 1993, the earliest year for which we have advanced metrics developed. They're even third-best in converting power runs, their long-time nemesis.
Bill Barnwell is an author of Football Outsiders who frequently contributes to ESPN Insider. You can find his ESPN.com online archives here.
http://insider.espn.go.com/nfl/playoffs/2010/insider/news/story?id=5991111