THE DON'S
Crystal Ball
2009 SEASON
WEEK 9 PICKS
By
DonCanabis/TheDon
Analyst/Godfather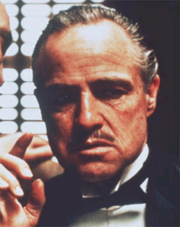 Man, that was a great week it took so long to find my groove but man it feels good to be back. Well the adjustments Iíve made have worked this past 2 weeks, so thereís no need to make big changes. It took so long for me to get a feel for this season I started to believe all the bashers out there.But no more I'm back I have tasted defeat and didn't like it. This is a crazy week with 6 out of 13 games with over 9 points.
Quick Hits
ēWhen Eli's suffered his plantar fasciitis injury I said and expected that it would hurt his game but, I never thought it would set him back to 2006 version of Eli.
ē The Favre Ė Green Bay reunion didnít disappoint one bit. Was there ever a more anticipated regular season game ever?... Favre fans and bashers had this game mark from the star of the season and it surely lived up to the hype. Thereís just one thing that worries me this is the third week in a row that Minnesota has let the other teams come from behind and make it a game. The result has been 2 Wins-1 lossÖ. if they continue this trend it can cost them their season.
ēHas the term Gunslinger changed this season because it sure doesnít fit the description; Brett Favre has 1925 yards 16tdís 3 int, Tony Romo has set a new personal record with 3 games without an int.
ēAre some franchises just destined for failure? Iím talking about teams that never have had successful teams or their best years where decades ago, in some cases even before the Super Bowl. With the resent news out of Cleveland, can we really expect any of this franchise ever be competitive again? And Iím not talking about one good season every now and thenÖ Iím talking about bringing their loyal fans a trophy or being consider a contender every season. Thereís no need to list this teams their fans know who Iím talking about.
ēSome people in the media even fans have said that players donít longer care about the game anymore and just about the money and Iím not denying it, in some cases it isÖ We see players play lightís out when itís contract year than fade away until their next contract. But, after this past two weeks seeing teams and players come out and play their heart out either for revenge or because they have something to prove it reminds me why I love this sport so much.
Who didnít cheer for Cedric Benson when he faced the Bears and left everything on the field? Favre against Ted Thompson and the Franchise that didnít think he could play anymore. Or the Baltimore defense when their toughness was question and people were saying Denver was the new tough defense. Or even Carolina that came out and showed how much the playoffs loss last year hurt them.
On to the games
Baltimore at Cincinnati
3 Ovr/Und 43.5
Both teams are playing great and this is an important game for both Cincinnati has to win if they want to continue their lead of the division. Baltimore has to win this game, after losing their first meeting if they lose they could probably kiss their season goodbye, with a head 2 head disadvantage with Cincinnati their Wildcard chances become really slim.
Straight:
Bal
Spread:
Bal
Ovr/Und
: Ovr
Houston at Indianapolis
-9 Ovr/Und 48
UPSET OF THE WEEK
I donít get this line, first they are division rivals also, the Texans have played close games agaisnt them the year before and the Colts lostĺ of their secondary this week. Houston is the best Passing offense in the NFL so with this in mind, not only I think the 9 point line is huge I expect and upset.
Straight:
Hou
Spread:
Hou
Ovr/Und:
Ovr
Green Bay at Tampa Bay
10 Ovr/Und 43.5
Everybody is talking about the possibility of New Orleans or Indianapolis of going 16-0 but looking at Tampaís schedule thereís a bigger chance of them going 0-16.Iím starting to question if all the sacks Rodgers is getting are more his fault or the olines.
Straight:
GB
Spread:
GB
Ovr/Und
: Ovr
Arizona at Chicago
-3 Ovr/Und 44.5
Both teams havenít found their identity this season, one week theyíre hot the next are cold. They both need this win if they want to compete in their division. Usually in these cases I go for the home cold team.
Straight:
Chi
Spread:
Chi
Ovr/Und
: Und
Kansas City at Jacksonville
-6.5 Ovr/Und 42
The, I donít care if itís a blackout Bowl. Both teams are bad we all know that, theyíre rebuilding and will take more than 1 year to be competitive again. Even if KC has had 2 weeks to prepare for this game Jacksonville has shown me a little more and itís playing at home.
Straight:
Jac
Spread:
Jac
Ovr/Und
: Und
Miami at New England
-10.5 Ovr/Und 47
This is a year of blowouts teams are winning by margins over 21 points every week. Miami produced no offense last week and needed a huge game by the Special Teams to win their game. Their defense is allowing more than 25 points per game in the last few weeks. Tom Brady have had 2 weeks to prepare a game plan against them and they play at home I can see another blowout.
Straight:
NE
Spread:
NE
Ovr/Und
: Ovr
Washington at Atlanta
-10 Ovr/Und 42
Atlanta is coming from back to back huge loses and thereís nothing better to bring back the mojo than playing against a team with bigger issues than yours. Iíve said it before the Redskins problems are far bigger than whoís the coach? And whoís calling the plays?...
Straight:
Atl
Spread:
Atl
Ovr/Und
: Ovr
Carolina at New Orleans
-13.5 Ovr/Und 52
Is a team playing better Football than New Orleans? It has gotten to the point when we all expect them to score every time they have the ball Ö Heck, is there even a punter in their roster? This game is hard to call because we donít know which pantherís team is going to show if itís the panthers from last week we have a game if it is the one of two weeks ago man itís going to be a long day. Last week I went for the under when the line was 57, I said to myself no way they score more than 57Ö. They did, this week against my better judgment I will go with the Over.
Straight:
NO
Spread:
CAR
Ovr/Und
: Ovr
Detroit at Seattle
-10 Ovr/Und 43
Detroit has many key injuries, we still donít know if Smith, Johnson and Stafford will play, and last week they couldnít beat the Rams, so what can I expect against Seattle. The injury to Hasselbeck worries me one good hit and we can see Seneca Wallace out there and nobody wants that.
Straight:
Sea
Spread:
Sea
Ovr/Und
: Und
Tennessee at San Francisco
-4 Ovr/Und 41
I can believe it but even if they have lost this past two week SF looks better with Smith in command what it starts to worry me is if he has what it takes to win when the game is on the line. The Titans showed some fight last week, but I expect Singlentary to focus on stopping C.Johnson and make Young try to beat them , and sorry but Youngís 15 minutes of
fame lasted less than Vickís.
Straight:
SF
Spread:
SF
Ovr/Und
: Ovr
San Diego at New York Giants
-5 Ovr/Und 47.5
Like I said at the start Eliís injury worries me it has affected his game, plus thereís the injuries to their secondary and this week they face the mad bomberÖ.but even with that, what worries me the most is that even if the chargers have looked good sometimes, they havenít beat a good team this season.
Straight:
NYG
Spread:
SD
Ovr/Und
: OVR
Dallas at Philadelphia
-3 Ovr/Und 48
GAME OF THE WEEK
Well revenge has been the topic of this weekís column and itís easy to believe that every Cowboys player has last yearís 44-6 loss in week 17 with the playoffs on the line in their minds this week. Both teams are playing at a high level right now. Philadelphia has been Romoís Achilles heel and if they play like last week and not like they played against Oakland. I believe it will be hard for Dallas to go to their house and beat them.
Straight:
Phi
Spread:
Phi
Ovr/Und
: Ovr
Pittsburgh at Denver
: 3 Ovr/Und 39.5
Wow, what two week run for the Broncos. First they face Baltimoreís defense and now they have to go against the Steelers, they sure miss playing against their division. Pittsburgh is 1-2 on the road but they have had two weeks to prepare I like Denver and if they get on Benís face they can take this game but I donít think Kyle Orton is prepare for this kind of punishment.
Straight:
Pit
Spread:
Pit
Ovr/Und
: Ovr
The Almost There Picks
(24-26) 48%
Houston (League)
Green Bay (League)
Atlanta (League)
San Francisco
New England
Baltimore