THE DON'S
Crystal Ball
2010 SEASON
WEEK 7 PICKS
By
DonCanabis/TheDon
Analyst/Godfather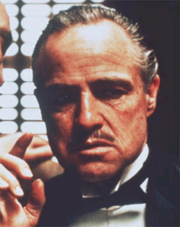 After back 2 back bad weeks this is starting to look a lot like 2009 season all over again letís see if things change.
Quick Hits
The reaction to the illegal hits the NFL had after last week itís whatís wrong with this league. To make changes to the game so quickly without putting things to test in games that donít matter or for the next season itís wrong. Youíre leaving the game in the hands of the referees and youíre affecting aggressive teams that have practice to play a certain way the whole offseason.
The reaction of the players is the best example of how ridiculous this changes are Football is a violent contact sport, everyone that plays it and has played it knows it and everyone that do it in the NFL they all know to what they signed up for and what to expect. Like Bruce Smith once said ďthis is the only Job that would pay me one million dollars to hit somebodyĒ. We all agree that players need to be protected but at what point you need to stop. No other league makes so much changes to its game every year more that the NFL soon to be NFFL (National Flag Football League)
The irony itís stupid, owners and league say they want to protect players and they still push for adding two more games to the season. Whoís going to play those games?
After Two Bad weeks my record against the spread fell from a 62% to a 51-39 record or 57%
At the start of the season who would had expected Dallas and San Diego to have the #3 and #1 Offense and #4 and #1 Defense and sit with a combine 3-8 record. Who ever had Kansas City, St Louis and Tampa Bay having more wins than Dallas, Minnesota and San Diego?
0-3 on my upsets of the week straight up but 2-1 against the spread.
The Goat of the Week Dallas CowboysÖ The whole team; starting with the indiscipline that has cost them many games, to get called for another excessive celebration penalty one week after it cost you a game it just ridiculous, getting double digits penalties, return kicks for Touchdowns, using the most conservative play calling with cero creativity I swear Iíve never seen a game with more screens and dump offs ever. This team just finds ways to lose each week.
On to the games
Cincinnati at Atlanta
-3.5 Ovr/Und 42.5
This is an interesting game Ryan is 15-1 at home, which pretty much tells you the Falcons is a tough team to beat at home. The Falcons defense is hurting they donít have the best secondary and D. Robinson and Whiterspoon wonít play. The Bengals havenít been great at the road, donít play good in domes and Palmer hasnít been the most accurate QB out there. The Bengals had two weeks to prepare I expect a close game that might come down to a Palmer late mistake.
Straight:
Atl
Spread:
Cin
Ovr/Und
: Ovr
Pittsburgh at Miami
3 Ovr/Und 40.5
Miami has been awful at home and Pittsburgh itís perfect on the road. Its Big Ben second week back and you can expect him to have a better week. The Steelers have the best defense against the run and Miami is giving over 100 yards rushing per game. Take the Steelers and the Under.
Straight:
PIT
Spread:
PIT
Ovr/Und
: Und
Buffalo at Baltimore
-13 Ovr/Und 40
We all believe 13 point lines are just too high and in todayís NFL when teams seem to pull upsets every week but, this is the Bills weíre talking about if itís a sure thing itís the Bills will lose against a good team. Baltimore is coming back from a tough loss where the QB complain about the conservative approach the OC had late in the game expect them to spread it out this week and score some points.
Straight:
Bal
Spread:
Bal
Ovr/Und
: Ovr
Jacksonville at Kansas City
4.5 Ovr/Und 43
David Garrard is injured and wonít play this week Trent Edwards will start for the Jaguars, Do I even need to say more? The Chiefs got robbed last week and would be sitting right now with a 4-1 record their only loss against the Colts where they stopped Manning for 4 quarters and only let them score 19 points. Take the Chiefs at home
Straight:
KC
Spread:
KC
Ovr/Und
: Und
Cleveland at New Orleans
-13 Ovr/Und 43
What a rough start of a career for Colt McCoy after going against Pit in his first week as the starting QB he faces NO this week and next week NE welcome to the NFL. The Saints finally looked like 2009 team last week and at home against a rookie QB I expect them to do it again. No way the Saints will be overconfident after losing to Arizona and their rookie QB.
Straight:
NO
Spread:
NO
Ovr/Und
: Ovr
Washington at Chicago
-3 Ovr/Und 40
UPSET OF THE WEEK
Washingtonís defense is the worst in the NFL in giving yards but this is a defense that put a lot of pressure, and it usually bends but rarely breaks giving an avrg of 19.8 points per game. McNabb will be playing at home so he will be exited and Shanahan will face his old pupil and will know how to put him in tough position.
Straight:
Was
Spread:
Was
Ovr/Und
: Und
San Francisco at Carolina
3 Ovr/Und 35.5
The 49ers finally got their first win Carolina still looking for it. Moore is back at QB and this could represent a problem but with no real threat at WR for the Panthers it will be thought for him to shine.
Straight:
SF
Spread:
SF
Ovr/Und
:OVR
St. Louis at Tampa Bay
-3 Ovr/Und 38
UPSET OF THE WEEK
Donít look now but after this week Bradford could put St. Louis over .500 for the first time in 5 years. Both teams are young and have young QBís at their helm, Tampa Bay has one of the worst run defenses and Coach Spagnuolo has his defense playing like his old team. Take the aggressive team on this one.
Straight:
STL
Spread:
STL
Ovr/Und
: OVR
Philadelphia at Tennessee
-3 Ovr/Und 40
UPSET OF THE WEEK
I might havenít called this upset if the game was last week but K.Kolb itís playing like we all expected before the season and even with D. Jackson out this week the Eagles have a lot of weapons in offense, plus the Titans will be without V. Young for this game but, the most important factor for this matchup will be the Titans Defense. Tennessee likes to play aggressive and after last week and with the referees focusing a lot on cheap shots and late hits the Titans defense will be the one that suffers the most this week.
Straight:
Phi
Spread:
Phi
Ovr/Und
: Ovr
Arizona at Seattle
-6 Ovr/Und 40.5
The Hall will play his first long road game of his career and playing in Seattle itís one of toughest venues to do so. The Seahawks donít have many weapons but have found ways to win. Take Seattle at home but the line is too big for a division game.
Straight:
Sea
Spread:
Ari
Ovr/Und
: Und
New England at San Diego
-2.5 Ovr/Und 47
San Diego seems to be able to win at home but too be called a favorite with the record they hold and injuries itís insane. If you need a WR for this week pick Patrick Crayton he will be the only healthy target for Rivers all game. San Diego will be without Floyd, Nanee for this game and Gates itís injured but will play. Also The Chargers defense is short on LB so expect Bill to exploit that area.
Straight:
NE
Spread:
NE
Ovr/Und
: Und
Oakland at Denver
-8 Ovr/Und 42
Denver is one dimensional but great at it they face a tough secondary this week and division rival. Oakland has injuries and we still donít know who will be their starting QB. But somehow division games almost always stay close so take Den but they wonít cover.
Straight:
Den
Spread:
Oak
Ovr/Und
: Ovr
Minnesota at Green Bay
: -2.5 Ovr/Und 44.5
Last year Favre put up a show on both games against his old team but, this is a completely different year. Minnesota isnít playing at high level Favre looks like his age for the first time ever and teams have been able to constantly put pressure on him. Plus we all know that all Packer players have been waiting for this rematch. Take the home team even with all the injuries
Straight:
GB
Spread:
GB
Ovr/Und
: Ovr
New York Giants at Dallas
: 3 Ovr/Und 45
I have been picking Dallas to win for five straight weeks, every week I see a very talented team that doesnít get beat but they beat themselves. So after another disappointing loss last week and continuing to see the same things I canít expect them to suddenly get it anymore. The Giants are in a hot streak and they know two things: that if they beat the Cowboys this week their season itís almost surely over and itís one less team to worry and the second thing is that if they donít do it that a team that finds hope itís a very dangerous team down the road.
Straight:
NYG
Spread:
NYG
Ovr/Und
: OVR
The Hot Picks
Record 17-19 47%
New England (league)
Kansas City(league)
Green Bay(league)
Washington
Pittsburgh
Philadelphia
Donís Prediction League Leaders
MlmPetert 167 -103 62% [thewarpath.net]
JAB 159-111 59% [forums.azcardinals.com]
Exile 135-93 59% [blackandgold.com]


10.-
TheDon 144-126 53%